Recent News
Christmas Holidays 2020
Our offices will be closed for the Christmas holidays from 1pm, Wednesday 23th December, till 9am, Monday 4th January 2021.
We monitor all services 24/7/365, and customers can be assured that any network outage or issue will be responded to no differently than during normal office hours. Customers with an extended support agreement can contact our engineers at any time either by email, or using the provided emergency contact details.
We hope all our customers have a good Christmas.
Wrekin Capacity Upgrades
We have recently completed capacity and performance upgrades on our transmitter site at The Wrekin, Telford. This should provide an improvement in signal quality for existing customers, but also will allow us to provide service to more properties.
If you made a previous enquiry and were waiting for capacity upgrades, please contact us for more information. If you are interested in our service and have not already made an enquiry, please fill in our wireless enquiry form to allow us to check line of sight to your property.
April Bank Holidays
Please note that our offices will be closed on the upcoming national holidays, as listed below. Premium or Datacentre hosting customers can still access support 24/7 by emailing support, raising a ticket, or phoning our main office number and entering their support pin.
Friday, 19th April
Monday, 22nd April
New Website Launched
Our new website aims to provide better support for the growing use of mobile devices, and to make it easier for new, or existing customers, to discover the services we provide. In many cases we have found that even some long standing customers are not aware of our full range of abilities, which cover everything from network cabling and on-site computer support, to a complete range of Internet services, including:
Wireless and traditional broadband
Installation of network and structured cabling
Provision and support of on-site desktop and server systems
Domain registration and management
Email and website hosting, especially those with bespoke requirements
Dedicated server hosting and rackspace in our custom built Telford Data Center
Cloud services including online backup, Office 365
Hosted VoIP phone systems
New Staff Member - Billie
Billie the Cocker Jack has become a regular fixture in the Userve offices. She doesn't really get much work done, but does try her best to keep everyone happy and enjoying their work.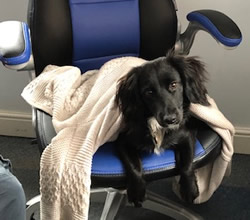 She can usually be found rummaging around for something to chew on, chasing a ball around, or giving people puppy eyes in the kitchen while eating lunch.
Hosted Phone Systems (VoIP)
We have partnered with enterprise telephony provider VoIP Unlimited to offer high quality hosted telephone systems. This hosted service takes minutes to set up and not only provides all the benefits listed below, but also includes a local phone number for each handset.
Ability to transfer calls between phones in the same organisation
On hold music
Customisable voice menus
Time of day routing
Conference rooms
DDI phoner number for each handset