Bespoke Managed Web Services
We regularly get approached by customers who have a specific need for a web service. Often they do not have the expertise or facitilies in-house to build or manage such a service, and the requirements cannot be met by off-the-shelf solutions. At Userve we can provide, and fully support, bespoke solutions to meet a wide range of specific requirements, such as
Dedicated web services with very specific security or platform requirements
Bulk mail services
Servers for specific use cases such as FTP or secure file storage
If you have a requirement that can't be met by the standard products most hosts offer, drop us an email with your requirements and we will investigate the feasbility and provide a bespoke quote.
Recent Projects
Dedicated mail relay
An existing data centre customer sends a large amount of email on behalf of their clients. They do not have email or SMTP experience in-house and so asked us to provide a fully managed solution for sending outbound email. Within a very short timeframe we were able to provide a solution with the following benefits:
Dedicated SMTP relay for their application to send email through
Automatic rewrite of SMTP envelope sender address to allow bounces to be returned to a specific recipient and processed, without the need for any changes in their software
Detailed logging of email traffic
Ability to implement correct SPF support simply by asking the client to add an "include:" entry to their domain's DNS settings
Ability to also support digital signatures (DKIM) by again making a simple addition to the client's DNS settings
From our customer's perspective, one of the biggest benefits is that we fully manage the system, and can quickly provide detailed information on the path an email took if any issues are raised.
Client FTP space
A support issue was raised with us because a customer wanted to use their web hosting space to allow clients to upload and download artwork files. After a discussion with the customer, it was clear that using their existing website account was not the right solution for this.
We provided a standalone managed system which allows them to easily create any number of individual FTP accounts for their clients, along with the ability to create multiple administration users.
Simple portal to allow management of clients and administration accounts. Administration accounts have access to the portal, but can also access all client folders via the FTP service
TLS security required for all connections using the current best practises, including support for the latest TLS 1.3 standard
Fully backed up daily via our Data Centre backup service, with the ability to restore previous versions of files if necessary
Supported and managed by our experiences technicians
Ability to only pay for the required space, but quickly upgrade if needed.
Highly secure dedicated server
We were approached by a web development agency building a site for a customer who required a dedicated server with very specific security and support requirements. As part of this we provided the following solution:
Standalone server with encrypted storage and dedicated firewall
Minimum TLS 1.2 required for not only web traffic, but all connections including file transfer & SMTP
Managed web application firewall to protect against attacks via brute force & common attack vectors
Large (>=2048 bit) key sizes for all encryption keys
Extended support with an extended SLA and the ability to fail-over to backup equipment in the event of a hardware failure
All email traffic not only requiring TLS, but also digital signatures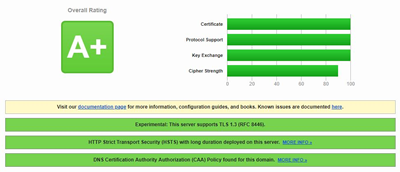 3rd party test showing very high TLS security results.