Structured Cabling
While wireless networking is starting to make in-roads for workers using mobile or tablet devices, good network infrastructure is still vital to make sure critical infrastructure stays connected, and staff can work as efficiently as possible.
Userve can provide full structured cabling installation, from helping plan locations and cable runs, to installing cabling, racks, as well as providing and configuring network equipment.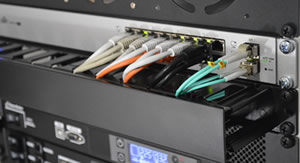 Configuration & Support Benefits
As a fully fledged Internet Service Provider, we can not only install cabling, but can also provide Internet connectivity, as well as all the equipment required to get your network up and running. We can also provide Internet based phone services or on-site VoIP systems via our Internet Telephony Services.
By providing the full range of services, you have one source of support for your entire network and Internet service. You no need to ring round several suppliers to get to the bottom of a fault, repeatedly being told you need to ring someone else - sometimes not even being sure who is responsible for each part of your system. We always provide managed network equipment and can quickly diagnose problems remotely, wherever the fault is.