About uConnect Rural Broadband
Userve Internet have been providing wireless Internet services for almost 20 years and are a leading supplier of rural broadband solutions to residential and business properties, especially in areas where traditional broadband is slow or unreliable.
Our standard packages provide up to 32Mbps, although we can also provide bespoke connections up to 100Mbps and low contention for businesses. All of our wireless services run over a dedicated private network to our Telford Data Centre, where we have multiple redundant connections to the Internet.
How It Works
Once an enquiry has been submitted, we will perform line-of-sight checks to make sure your property can see one of our masts. If successful, we will contact you to book an installation date.
On the installation day, our engineers will visit your property and perform tests to make 100% certain that there are no obstructions blocking the service, and that they can achieve the upload and download speeds required. There is no commitment at this point and there will be no charge if obstructions or other interference mean we cannot provide the service. We will never complete an install unless we are confident it will meet our high expectations.
Depending on your distance from our masts, we will install either a 400mm or 500mm dish, similar to a satellite dish, as seen below. A single cable is run into the property to a provided WiFi router.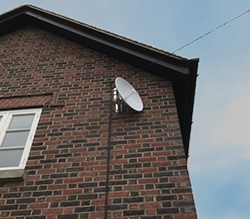 Coverage
We are expanding our coverage all the time, so if you have slow broadband, please feel free to submit an enquiry even if your location is not shown on this map, as we will use this information to plan future deployments.
The Wrekin, Telford, Shropshire
Atcham, Shropshire
Stafford Park, Telford, Shropshire
Hortonwood, Telford, Shropshire
Kynnersley, Shropshire
Pulverbatch, Shropshire
Hodnet, Shropshire
Newport, Shropshire
Flashbrook, Shropshire